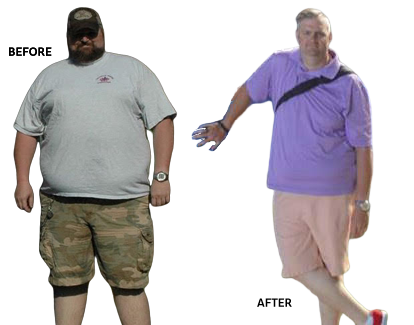 I needed a more drastic measure, a lifestyle change
I have always been a big guy. I would put on weight in the winter when I was less active and take weight off in the summer when I was outside and more active. As I have gotten older I wasn't taking off as much weight as I was putting on and got bigger and bigger. I had pulled a muscle in my back and knew that my weight wasn't the sole cause of my back issue but was a contributing factor. I had tried "dieting" and knew I needed a more drastic measure, a lifestyle change, and I had not been able to do it on my own and needed help making that change.
Success Bites
I lost 100 lbs on Dr. Simonds program— more energy and no more aches and pains.
I'm a work in progress and my self esteem has sky rocketed.
From the first phone call I knew this was the answer. Life savers, that's what these folks are!
This program is the only thing that has worked for me after 20 years of being 55 lbs. heavier.
I tried everything else. Dr. Simonds' diet made it easy and he encouraged me all along the way. I have much more energy and strength like that of a younger person!
Dr. Simonds helped me design a plan and within 7 months I lost 50+ lbs and I continue to maintain my weight loss.
I have lost 97 pounds and regained my health… my self confidence… MY LIFE!! With the motivation, education and support of Dr. Simonds and his team.
I have lost 90 pounds and have learned to eat healthy foods in the right portion sizes.
I like the new me and I'm not looking back.
I lost 70 pounds! Thank You Dr. Simonds and team.
Dr. Simonds and staff have given me the tools and encouragement to get my life and health back on track