Due to continuing supply chain issues and labor shortages with many of our suppliers, we, like many offices and businesses have had to reassess our pricing structure.
Many patients know we haven't had any price increases in over 5 years. Dr. Simonds and our team do our best to focus on keeping services and treatments affordable for a wide range of weight loss needs. In many cases, we have created specials and exciting offers to help keep costs lower than our weight loss competitors.
Effective, February 21, 2022
New Start Fee will be $250. This is a one-time fee for new patients only.
Follow Up Visits will be $85. Remember, once a patient, always a patient, so this includes restarts.
Multi- Follow-Up Visits Package will be $195. These packages offer patients savings when buying multiple visits. Ask about these packages in the office at your next visit.
No Show Fee will be $25.
Medication pricing will also see slight increases.
WHAT CAN I STILL EXPECT?
All patients can still expect the same high level of quality care and service in reaching weight loss goals. Dr. Simonds has invested in additional talented providers and office personnel to better serve you.
Great specials and offers every month. Dr. Simonds will continue many of our most popular offers. Make sure to check your emails and ask in the office about these exciting offers. See below for a FREE SHOTS DAY!
Commitment to advancing our services with the best people, products, and pricing. We want you to succeed in losing weight and managing weight loss.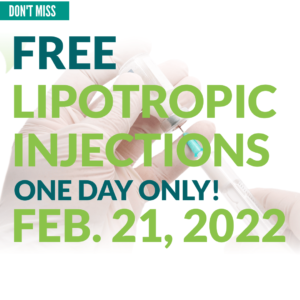 On Feb. 21, 2022, both the Durham and Raleigh offices invite all current and previous patients to take advantage of FREE LIPOTROPIC INJECTIONS.
You read that correct, we'll be giving all current and previous patients FREE Super B and Fat Burn Plus injections.
These popular injections are a $70 value.
One day only. No appointment is necessary.
Visit our Raleigh or Durham office on Feb. 21, 2022. Shots will be administered in the order of arrival.
Make sure to check back with us as we plan another day like this in the fall of 2022.