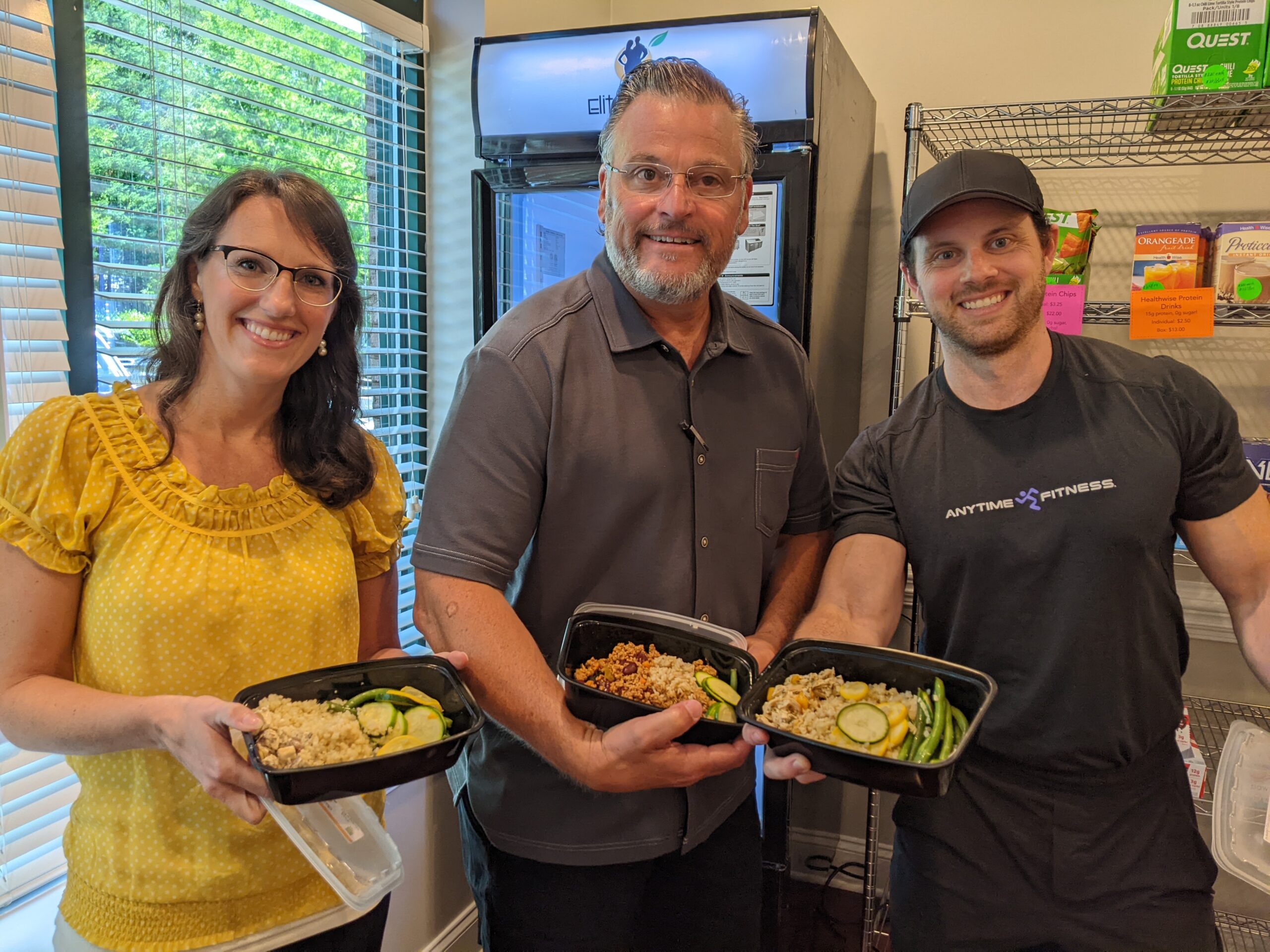 Dr. Simonds and Michelle Kennedy, NP-C answered your weight loss and health questions Live. This episode was all about meal prep and nutrition. Elite Prep Meals Co-Founder, Certified Personal Trainer, and Owner of Anytime Fitness (Cary Location), Eric Jones joined the show to discuss his coaching programs and nutrition. He also brought some yummy meals! He's an advocate for daily moving for long-term health and longevity. It's about helping people understand the steps needed for sustainable weight loss and adjusting behaviors for a more active lifestyle.
Q: Is meal prepping really as cost-effective as people suggest? How?
A: Yes! It really is! Meal prepping is a money saver and also a time saver too! While there are some upfront costs with meal prepping, it's well worth it. If you compare dining out at restaurants and using meal delivery services it's especially cost-effective. Buying in bulk is a great way to keep costs down and make your money and meals go further. We always recommend meal prep to patients and even love frozen vegetables! Buying bulk frozen vegetables and meats and having them readily available for quick meals is efficient and delicious.
We understand that not all patients always have the time to meal prep, so we are excited to offer fully customizable meal prep options by Elite Prep Meals. The already-prepared meals are high quality, never frozen, and prepared fresh locally. It's really easy to order too! You place your order by Saturday, and your meals are prepared fresh and dropped off on Monday morning, where they are kept refrigerated. Our Raleigh and Durham offices are drop-off points, and you just pick up your meals at your convenience during office hours. Meals are usually available for pickup at noon on Mondays. They offer keto, low-glycemic options, vegan and vegetarian options. You pick your protein, a low-glycemic carbohydrate such as cauliflower rice, and a vegetable. They even offer different seasoning options based on your personal tastes. All meals are cooked at a professional restaurant in wood-fired ovens. So tasty! We've been enjoying sampling the different options and they are all perfectly portioned, filling, and delicious. They do all the work for you!  We do keep a few meals ready for purchase, but highly recommend ordering from the Elite Prep Meals directly and taking advantage of the customizations. It's like having your own personal chef! The meals are also ready to freeze for later.
Remember, eating healthy does not mean eating bland! We love adding sugar-free seasonings and sauces to meals.
Visit Elite Prep Meals for more information and to place your order.
Q: I did meal prep when I started a fast and needed to slowly bring food back into my diet. What are the best meals for fasting and post-fasting?
A: We find that many patients feel better breaking their fasts with a light meal or broth and avoiding a heavy meal immediately. When you fast, you get incredible digestion rest which is great for many things. But if you introduce a heavy meal too soon, it can leave you feeling bloated or uncomfortable. For this reason, we recommend lighter options such as broth, protein shakes, greek yogurt, and eggs. Definitely avoid junk foods and heavy carbohydrates.
DietDoctor.com and Dr. Jason Fung are great online resources for fasting.
Q: I hate counting calories or weighing my food. Are there options for customizing your meals so you don't have to constantly think about those things?
A: Yes! Elite Prep Meals offer options that are perfectly weighed and portioned. You can even add additional protein or vegetables to your meals.
If you're preparing your own meals, visually, 4-6 ounces of protein is similar to a deck of cards, the size of your palm or fist.
Q: How far in advance should someone meal prep for – weekly, or monthly?
A: It really depends on how much time you have and how much freezer space you have. If you're buying in bulk and have the freezer space, monthly meal prep is great for money-saving. We recommend at least weekly meal prep or enough to last a few days at a time.
Q: I like a lot of flavor but I'm worried that adding sauces will increase unnecessary calories. How do you keep things flavorful?
A: Avoid high sugar and high-calorie sauces and seasonings. Try adding spices and herbs to your food. There are also so many sugar-free and low-glycemic sauces available at most grocery stores that can really elevate a meal.