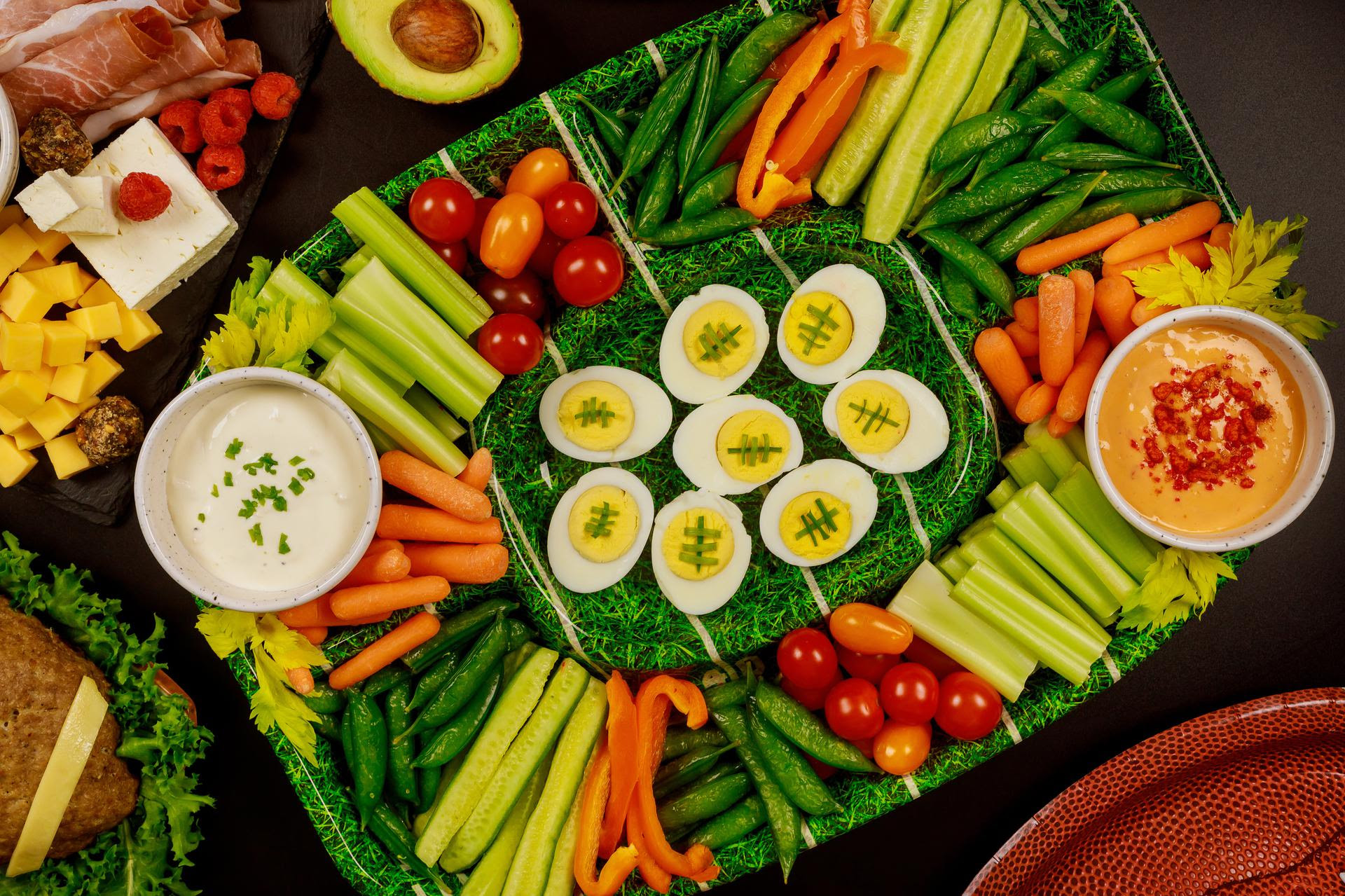 This is shaping up to be a historic game for a few reasons, and there's no reason you can't celebrate with food just like much of the country will. It's the first big game where one of the teams happens to be playing in their home stadium in Tampa, for example, and this can be an excellent reason to come up with a Keto spread for your virtual party for Sunday's game. Regardless of whether you're rooting for the Buccaneers or the Chiefs, here are some pointers for making it a great event.
Keto Food for Your Party
One fun thing to do is find some recipes and Keto snacks that everyone can agree on ahead of time, and then just have everyone make them before Sunday. That way, everyone can be eating the same foods as if you were all in the same room even though you're doing it virtually to be safe.
If everyone is eating similar Keto snacks, you may even forget you aren't physically together after a while once the excitement ramps up.
Regular Spreads Keto Style
It's common to just put out spreads of various snacks that are simply grocery store-bought during the Super Bowl. Some of these fit fine into Keto. For example, putting out meats like pepperoni, leafy greens like celery, and various cheeses onto a spread plate would work within some Keto styles no problem. Chicken wings are always a party favorite- full-fat blue cheese or ranch dressing are perfect for dipping those meaty wings into!
Other ideas that you could add to this include the following-
Pizza Bites (Keto)
Just about everyone loves pizza bites as part of a football celebration, even if you don't love football. However, the normal recipes are often high-carb. However, one thing you can do instead is use pepperonis themselves to contain the bite instead of bread.
You can then add-
Basil leaves

Pizza Sauce

Mozzarella Balls

Black Olives (or other options)
After that, you just bake them in something like a mini muffin pan, and you're good to go with this recipe.
Keto Mozzarella Sticks (with Pork Rind Crumbs!)
Mozzarella sticks are a classic snack for the Super Bowl. If you want a Keto version, there are recipes that let you do this.
Generally, you get your mozzarella string cheese, an egg, parmesan cheese, Italian seasoning, garlic powder, black pepper, and even marinara sauce.
Instead of traditional crumbs, you can use something like pork rind crumbs. The recommendation for oil to fry everything is avocado oil.
It will look and taste just like mozzarella sticks and you'll be able to enjoy both the look and feel of mozzarella sticks that don't really taste any different at all while keeping to your healthy Keto diet at the same time.
Getting the Full Spread
To go along with your spread of healthy vegetables, you can add options like-
Homemade Salsa

Cauliflower Hummus
Avocado Cheese Dip
Plus, there are many more, all within Keto guidelines, all often tasting just as good as the original, and all worth sharing with your friends and family to create that Big Game atmosphere.
Creating a Virtual Party
Now that you have your Keto food figured out, you just need to coordinate how to stay connected during the game. Here are a few tips worth noting for making this happen.
Test Zoom Ahead of Time
There's always the option of using Zoom so that you can all see and hear each other during the game, making it just like you were there. It's definitely worth testing to make sure this works ahead of time because you don't want to have to fiddle with it during the game.
Use Phone Mounts
If your computer is in an awkward place and you can't really move it around so that you can see people during the game from where your couch or chair is, one thing you can do instead is to just get a mount for your phone that has a clamp.
Then, you can clamp your phone to a table, chair, or wherever else you would be sitting naturally during the game, mount your phone onto it, and then connect to Zoom from there. That way, you'll be hands-free and it will be like your friends and family are sitting right next to you.
Plus, they can do the same thing to give it all a natural feel. Mounts can give you a lot of flexibility for creating the right mood.
Try Other Options in Case of Zoom Fatigue
If you've been using Zoom a lot for office meetings or whatever else, and you don't want to give your Super Bowl party the wrong feeling, there are actually many other options out there.
These include Google Hangouts Meet, Skype, TeamViewer, and plenty of others. It's important to get in the right mood for your viewing and Keto virtual party, so find something you can all agree on.
Synchronize Keto Snacks
You can even turn this into a game, such as eating a Keto Pizza Bite during every commercial, or whenever your team scores a touchdown. If you can see and hear everyone eating something similar simultaneously, it will help enhance the feeling that everyone is in the same room at the same time. It will create a sense of normalcy so that you can enjoy the day the way you always do with your friends and family.
Wear Your Uniforms and Themed-Clothing
If there's ever a good time to wear that uniform of your favorite player, it's during the Big Game. The same goes for shirts, hats, buttons, or anything else that will give you that sense of shared purpose and mutual excitement during your virtual party.
Doing Your Party Your Way
In general, there's no reason that you can't have a fun and healthy party for this upcoming Big Game despite the situation in the world. If you prepare a bit ahead of time, you can make it just the way you want with only a minor change or two to make sure that everyone is safe during the party.
And remember, we are here to help make weight loss possible and sustainable.
If you are struggling with excess body weight and are seeking professional guidance, let us help. At Dr. Simonds Metabolics & Weight Loss, we treat patients with a variety of weight-related issues.
All new patients will receive a full metabolic assessment and be provided with a complete plan so that you achieve weight loss in a healthy way. We will also provide you with medications to curb appetite, suggest an exercise plan, and provide you with ongoing nutritional counseling.
Feel free to contact us today to set up an appointment, and we will be more than willing to assist.