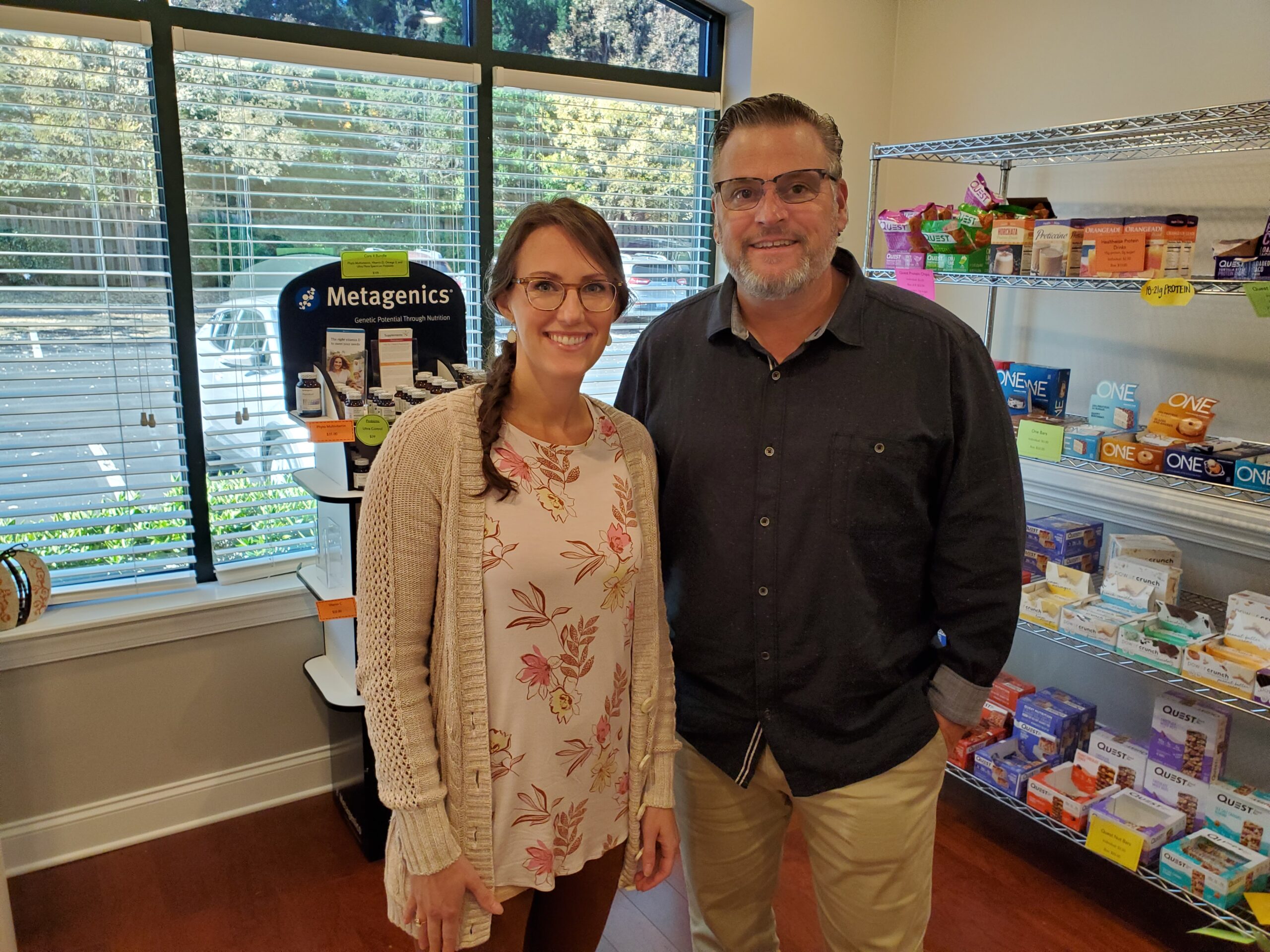 During this episode, Dr. Simonds and Michelle Kennedy, NP-C answered your health and weight loss questions relating to Metformin, ketosis, non-surgical fat removal, fasting, and more.
Q: I was having a hard time losing much weight despite staying on the diet. You recently put me on Metformin and it seems to have really helped. How exactly does it work? I just found out my fasting glucose was running a little high before I started.
A: When our bodies are producing too much insulin, this results in an elevated fasting blood sugar level. Metformin works by reducing insulin levels. When the fasting blood sugar levels are reduced from taking Metformin, this often results in a lower weight, appetite reduction, and fewer cravings.
Those that follow a low-carb ketogenic diet, will have their highest blood sugar in the morning and the lowest in the evening. That is completely normal and is an indicator that you are eating the correct food. Because your blood sugar is dramatically reduced overnight, your liver releases stored sugar into the bloodstream, which results in a higher blood sugar level in the morning. We recommend patients who are following a low-carb diet check blood sugar levels in the evening for the most accurate results.
Q: What are some of your go-to keto-friendly Thanksgiving sides?
A: Yum, what a great question! Michelle is a fan of vegetable sides such as greens, asparagus, and even a low-carb version of a green bean casserole. Doc's favorite way of making brussels sprouts is to halve them and crisp them up in some bacon fat and butter.
You can find many keto versions for the traditional carb-loaded side dishes popular at Thanksgiving. Mashed Cauliflower is a delicious alternative to those carb-heavy mashed potatoes. You can actually make your own cranberry sauce with a sugar-free sweetener such as Swerve or Splenda. You can even make stuffing without the bread!
Holidays are for celebration, joy, and gathering and we certainly want you to enjoy yourselves. We just suggest that you be mindful of your choices and not overindulge.
View this post on Instagram
If you're looking for some great keto recipes, visit Dr. Simonds' Instagram, The Casual Keto Doctor
Q: Should you increase your water intake when on a keto diet?
A: Yes! Truthfully, we should all be drinking more water, regardless of diet. We highly recommend keto followers pay particular attention to water intake. A natural release of sodium and electrolytes occurs while on keto, which in turn causes a reduction in water weight and hydration. Therefore it's important to replenish the lost electrolytes and water.
Q: Do you offer non-surgical fat removal and who do you recommend for these services?
A: Yes, we do offer effective, affordable non-surgical fat reduction and skin tightening services at our Durham office called InMode. We currently have three machines that target different areas of the body. Evoke is used on facial areas such as the cheeks, neck, and jawline. Evolve is a body contouring device for fat reduction and skin tightening. InMode Morpheus8 is slightly invasive and uses needle tips and radiofrequency. It's very popular and can be used to treat many areas of the body that have fat accumulation or loose skin.
Dr. Simonds's wife, Anna performs the InMode services and is a highly trained medical specialist. Contact our office to schedule a free consultation with Anna for InMode services. She'll be happy to discuss the treatment options available and whether InMode is an appropriate treatment for you. Anna will thoroughly discuss options, results, and costs while answering any questions you may have about InMode services. We are the only weight loss practice in the area that is offering InMode services at this time.
While InMode is highly effective and patients are loving their results, it's important to remember this is not a weight-loss technique or cure-all. Your diet, exercise, and medication are your weight loss techniques and InMode is the most effective when performed in conjunction with a weight loss journey.
Q: I've been losing weight for months now. About 30 lbs. Should I readjust my medications based on my weight loss or is it too soon?
A: Congratulations on your weight loss! To answer your question, it's going to depend on what types of medications you are referring to and we generally divide them into two groups. Firstly, if you are on blood pressure or blood sugar medication, you'll more than likely need a reduction. Our experienced medical specialists can help guide you to safely reduce medications that may become too strong for you as you're losing weight.
The next group of medications that we're discussing is those directly related to weight loss such as appetite suppressants. As far as weight loss medications, we generally prescribe those on a long-term basis. When you do reach your weight maintenance goal, we may address those medications by cutting back on dose, or frequency to see if you can maintain on less. However, based on our experience and knowledge, weight is a chronic progressive medical condition, which generally requires long-term treatment. Therefore, we're not in a rush to discontinue the weight loss medications that are helping you reach your weight goals and improve your health.
It's also highly individualized and we address this with every patient on a case-by-case basis. Obesity is a chronic medical condition and is the cause of multiple medical issues and problems. The weight loss medications that we prescribe are safe and effective for long-term use.
Q: Do you treat pre-menopausal patients? What kinds of success have you seen?
A: Absolutely! We have many female patients in perimenopause or who are experiencing a fully menopausal state that we treat at the practice. Many women (and men) struggle as they get older. As women experience a drop in hormones generally at the age of 35, weight, health, and energy maintenance changes and becomes harder to manage. What once worked while someone was in their 20's and 30's generally doesn't work as well as hormone levels begin to drop.
We have guided many women experiencing this and are highly skilled in helping individuals figure out what they need to do. We have all kinds of success and can help you with tools, medications, guidance and also highly recommend a low carbohydrate diet.
Q: Should you do a colon cleanse when you're trying to lose weight?
A: This is a great question that we get in the office frequently. We typically do not recommend colon cleanses as our bodies are designed to detox and cleanse naturally. However, we do recommend helping to keep pathways regulated by drinking plenty of water and eating whole, unprocessed foods. We recommend magnesium citrate or Milk of Magnesia to ease constipation and to make sure things are moving along.
Q: What do you recommend for the best fasting results? 16:8?
A: Finding a fasting regime that really works for you is ultimately the most important. If you're hungry all the time while fasting then there are definitely medications, such as appetite suppressants that can help. We recommend drinking lots of water and choosing a fasting schedule that works for you.
There are many different ways to fast, from only fasting on certain days or hours.  Start out by skipping breakfast, then skipping lunch, and then eventually getting comfortable with one meal per day. The further you can fast, the better it is for you. It's important to make sure that when you are eating, that you are feeding your body properly with nutrient-dense foods including protein, healthy fats, and fiber.
Q: Can you lose weight even if you don't stay in ketosis for long periods of time?
A: Yes! We definitely encourage low-carb diets and some form of control is always beneficial. The ultimate goal is to teach patients to eat whole foods as a lifestyle and not to use diet as a short-term fix.
Q: Carbing up, yes or no to lose weight?
A: Definitely no! This is a really great question because there's lots of information out there, especially about carb cycling. While it may work in certain circumstances such as breaking through a weight loss plateau, we don't generally recommend it.