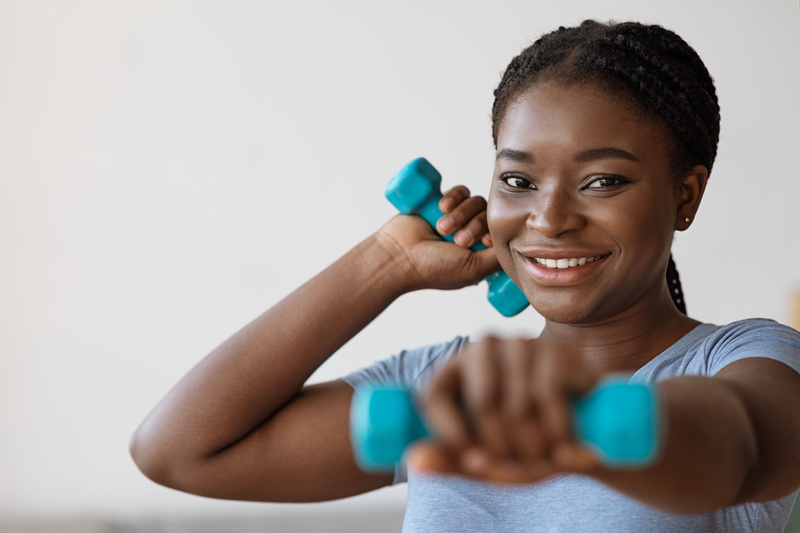 Exercise has so many health benefits beyond losing weight and building muscle. Often overlooked, regular exercise has psychological and emotional benefits too. Mental health plays such a vital role in one's overall wellbeing and it doesn't need to be a structured exercise program to be beneficial. The goal is to simply move more and sit less.
If you are looking to improve your physical, mental, and emotional health, a regular exercise routine is important. Between work, family, and other commitments, finding the time to exercise consistently can seem impossible. The good news is, you can start wherever you are, and the benefits will follow. No gym, no problem! 
Benefits of Regular Physical Activity
There are immediate and long-term benefits from physical activity sessions. It is important to remember the positive impact you have on your health when you choose to exercise regularly. Some of these benefits include:  
Improved cognition 

Reduced anxiety 

Reduced risk of depression 

Improved sleep habits 

Body Fat Loss

Weight Management

Reduced risk of cardiovascular diseases, diabetes, and certain types of cancer 

Strengthening of bones and muscles

Lowered risk of mortality 
Easy Ways to Exercise At Home
There are many ways you can choose to exercise at home to achieve the 75-150 minutes of exercise each week that you need. From at-home fitness routines to choosing your own exercise equipment, to managing lifestyle changes, you can make an immediate difference by making positive choices, and have fun while doing it!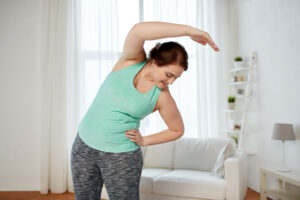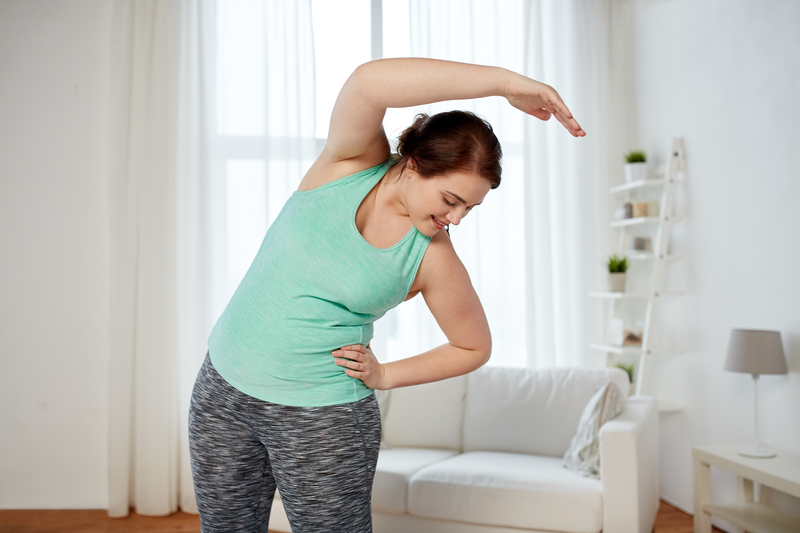 1. Virtual Gym Classes/Fitness Apps
Many gyms recognize the benefits of offering virtual classes, and there are numerous fitness videos online. Try out a free series to find out what type of exercises you enjoy doing at home. A few that you might want to explore include:
Yoga with Adriene – Weekly yoga videos to help you find what feels good. 
Nike Training Club – Motivates and supports you in your journey to building endurance and strength, no matter where you are.
Move with Colour – Dance in the comfort of your own home.
PopSugar Fitness – Tutorials, workouts, and exercises to improve mental and physical health. 
Fitness Blender – Choose from hundreds of workouts for all levels and types, with or without equipment.
The Body Coach TV – Host Joe Wicks leads you through a variety of 15 to 20-minute workouts, as well as challenges.
HASfit – Let trainers lead you through a variety of workouts that include HIIT, low-impact, and strength-training options.
Heather Robertson – Offers a large selection of low-impact workouts and workout plans. This channel is best for those that don't need a lot of instruction during workouts. 
Kit Rich – Try an encouraging Pilates-inspired workout by celebrity trainer Kit Rich.
Blogilates – Certified fitness instructor Cassey Ho leads you through a variety of workouts that focus on pilates and body sculpting.
2. At-Home Exercise Equipment
A great way to stay motivated when exercising is to simply change your routine. Grab a weighted jump rope for some cardiovascular exercise, a new yoga mat to get excited about those free online yoga classes, or some dumbbells to take on your power walks.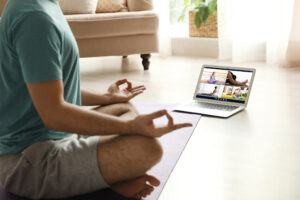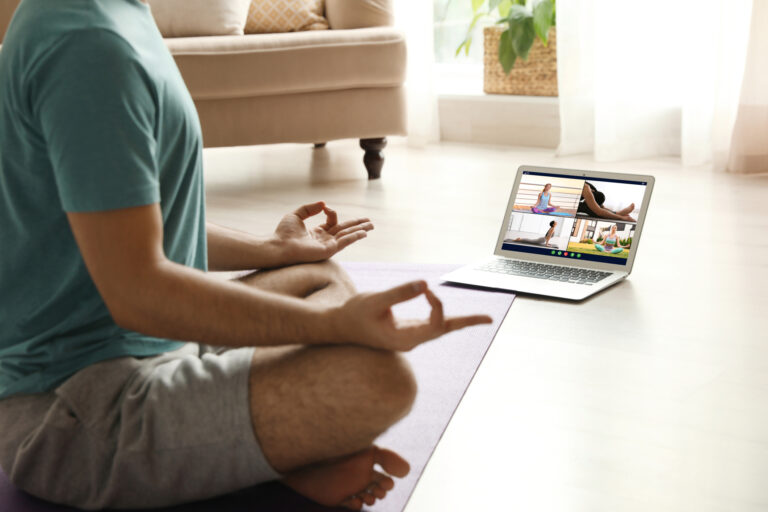 Of course, you may also choose larger pieces of equipment if it suits your needs. Treadmills, stationary bikes, or full at-home gyms are all great options. Choose to invest in equipment that compliments your preferred methods of exercising, so you know it will be utilized to its fullest potential. 
There are many options for at-home exercise equipment, so no matter how you enjoy working out, you'll find ways to vary your routine and keep things fresh. 
3. Lifestyle Changes, or Finding Even More Ways to Exercise at Home
If you think finding the time for a full exercise routine is difficult, or you want to switch up the type of physical activities you do, the good news is that being active for short periods of time adds up to provide similar benefits as traditional workouts. Lifestyle changes are an easy way to sneak in a significant amount of physical activity at home without making significant sacrifices. Make one easy change at a time. When it becomes routine, find a new thing to change. One step at a time is still a step in the right direction. 
Walk or Bike – If you can safely walk or bike somewhere that you normally drive to, give it a try! Start with a small trip to a neighbor's house, then consider biking to work once a week. If you normally take your dog to a dog park to run free, take it for a walk around the neighborhood instead. You may even want to work up to jogging eventually. 
Mowing the Lawn – Instead of using the riding lawn mower, switch to a push-mower. If you have significant acreage, you can still opt to push-mow a portion of it for the physical benefits. 
Join the Kids – Instead of passively watching kids play, join them in their games! Show them why you were the hula hoop master, join them in a pickup game of basketball, or plan a dance marathon. Everyone has fun and everyone benefits from the exercise! 
Find Active Hobbies – Hiking is a great way to reap the benefits of both exercise and being in nature, so make a goal to hike all the local trails. If you've only ever planted a few flowers out front, consider expanding into a vegetable garden or planting some fruit bushes to give you more reasons to keep moving outdoors. If you used to love roller skating when you were younger, pull out those skates and go around the block a few times. 
There are many ways to stay active and enjoy yourself through at-home exercise, so don't be afraid to try something new! Stepping out of your comfort zone can be daunting, but it's a rewarding way to improve your mental and physical health.