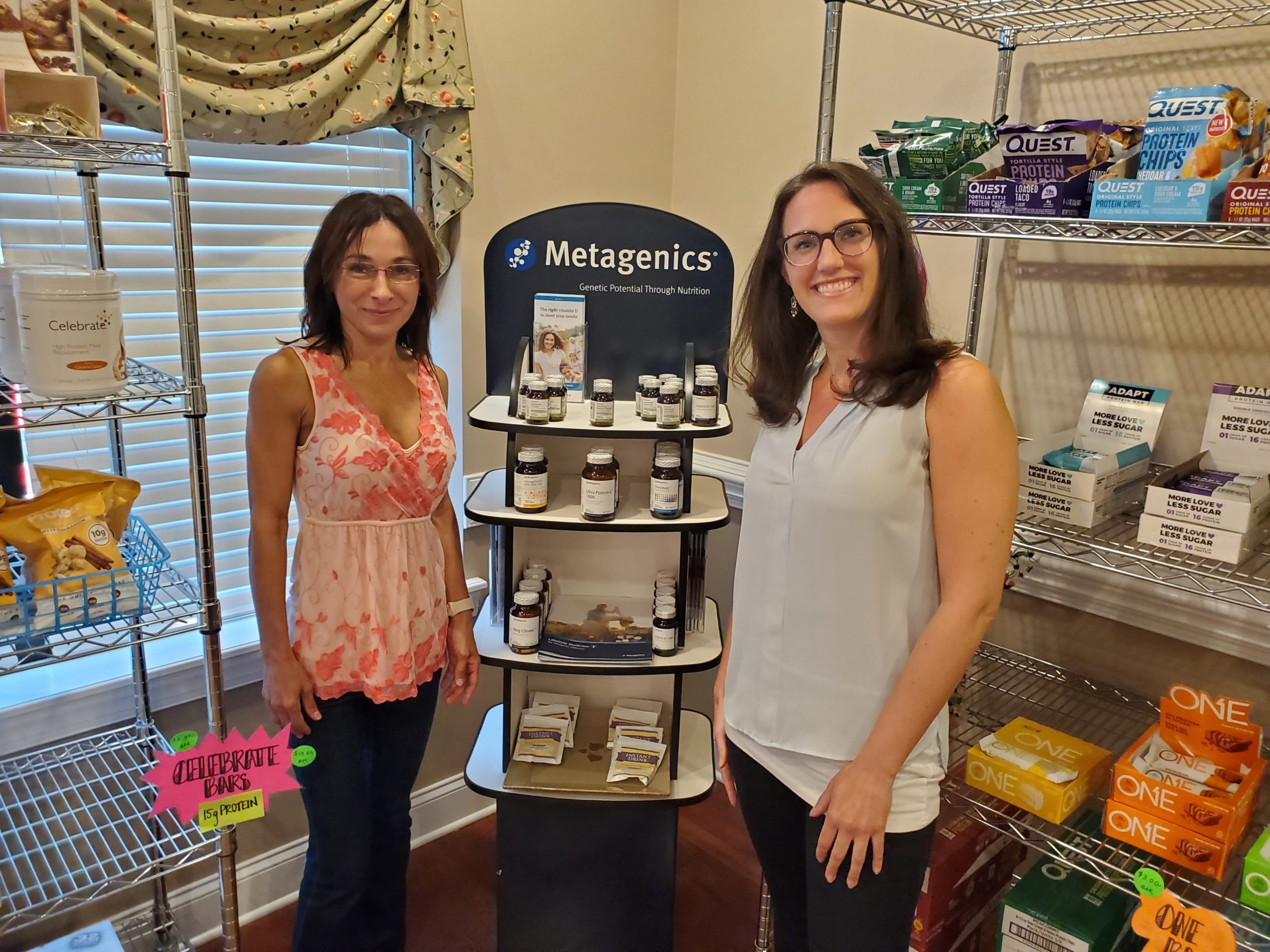 For today's AMA Live session, Michelle Kennedy, NP-C welcomes Tina Sessoms, front office staff member from our Durham office location. Tina is responsible for the ordering of our Metagenics supplements and is incredibly knowledgeable on this favored brand. Tina is here today to share her knowledge and insights on the popular Metagenics supplements that are carried at Dr. Simonds Metabolics & Weight Loss. But first, let's answer some questions that we received:
Q: I seem to have stalled for about a week, what can I do to jump-start losing weight again?
A: We know that 1 week without weight loss is extremely frustrating, but it is very common, normal and expected. We consider a true plateau to be no weight loss after 4 consecutive weeks. My advice is to hang in there and don't be discouraged. We find patients that continue to follow their current plan will have much success breaking through any plateaus. However, feel free to reach out to our office and we can evaluate your plan and tweak if necessary. We also find that adding Lipotropic Injections are helpful and make patients feel better. CBD can also be helpful in breaking a plateau as well.
Q: How often are follow up visits required (I have two small kids and will have to coordinate childcare)?
A: You would be a perfect candidate for our phone visits. This way, you wouldn't be required to leave your home while reaching your weight loss goals. We would need to gather some information from you such as your current weight and blood pressure, but everything can be accomplished remotely. Weight loss medications can be picked up conveniently by using our curbside pick up service or we can ship them directly to your home. Our goal is to make it as easy as possible for patients to reach their weight loss goals.
Q: I would like to lose the baby weight (about 40 lbs. ). I have a newborn and it's just very difficult to have energy and time to work out really hard. I would love some help!
A: If you are not currently nursing, you would be a candidate for pharmaceutics to aid in weight loss. The hormonal flux that happens with pregnancy and postpartum makes losing weight even more difficult. And it's not necessarily true that nursing can cause automatic weight loss. We have seen some instances where nursing has actually caused weight gain and women continue to struggle with weight loss. Lipotropic injections, vitamins and supplements can also aid in helping with low energy levels. And, exercise is not a requirement for weight loss.
Now let's discuss Metagenics and why they are the supplement of choice at Dr. Simonds Metabolics & Weight Loss
Metagenics is a pharmaceutical-grade supplement line that does an amazing job with providing top-notch supplements. They are well known for their thorough testing, research, education and the purity of their products. They have been providing prescription strength supplements for about 30 years now. They are an office favorite and Tina has been a huge fan of Metagenics from the start.
Dr. Simonds Metabolic & Weight Loss is excited to carry this great brand and has added 3 new products from their line. Two of the products are forms of vitamin C, a tablet and a powder form. We also started carrying a new probiotic called Immune Booster, which contains a specific strain specifically targeted for sinus and respiratory health, which is especially helpful during these Covid-19 times. Probiotics contain different strains and we do also carry some that specifically aid in weight loss such as Control. Finally, we carry the Broad Spectrum probiotic, which contains many different strains for overall health.
These supplements are available for purchase at the office, but we also have an online store that carries a wider variety of products. You do not need an appointment to purchase supplements and can stop in anytime we are open. Our knowledgeable office staff will be happy to assist you and answer any questions you may have about Metagenics.
For online purchases of Metagenics, we have a link through our website to access their full inventory. Auto-ship orders receive a 20% discount on the first order, then 10% off each additional order. The shipping is free too! To take advantage of these specials, shop wsimonds.metagenics.com.
We also want to address the common questions we receive about Metagenics supplements:
Q: Tell us more about why patients should choose Metagenics. Why was Metagenics chosen to be available through Dr. Simonds?
A: They are prescription strength supplements and they do vigorous testing continuously to ensure their supplements are top-notch quality. You cannot find Metagenics supplements at a local drugstore or any big retailers. They are only available from individual physician offices, however, they do NOT require a prescription. They also offer a full refund, no questions asked if you're not happy with your purchase. We stand behind these supplements and we take them ourselves. Almost all of the staff, including Dr. Simonds takes Metagenics supplements regularly. We would never encourage patients to take something that we wouldn't use ourselves.
Q: What supplements are offered and how can they help?
A: At our clinic, we also carry a Vitamin D supplement, a fish oil, Magnesium, Potassium and a multivitamin. We also carry the supplement CoQ10, a potent antioxidant that aids patients currently taking statins to help with cardiovascular health and side effects. While we carry a wide variety of Metagenics supplements in the office, you can purchase any Metagenics supplement through the website. Just make sure to use the link wsimonds.metagenics.com to receive the discount.
Q: Do you need to be a patient to buy them?
A: Absolutely not! They are available for anyone to purchase. We highly recommend patients of all ages take fish oils as they are known to help with heart health and inflammation. Metagenics offers the purest form of fish oil on the market. A good multivitamin is also highly recommended during a weight loss plan to make sure that you're getting the nutrients needed. While we never require patients to purchase supplements, we do recommend some supplements that are beneficial during a weight loss plan.
Q: Do you offer supplements that are gender-specific?
A: We don't carry gender-specific supplements in the office, but Metagenics does offer supplements made specifically for men and women that can be purchased online. We carry supplements that are for the general public that anyone can benefit from, regardless of gender, age, weight or medical conditions.
Q: Why take Vitamin C?
A: During a weight loss plan, we do recommend that patients limit their intake of fruits, which also limits their vitamin C intake. Taking a vitamin C supplement will ensure that your getting enough vitamin C since your diet is being restricted for weight loss. Keep in mind that a large amount of fruit is also needed to ensure that vitamin C intake is sufficient, which is not easy to do. Even for those individuals not restricting fruits, it's difficult to consume enough food for the proper amount of vitamin C that the body needs on a daily basis. Vitamin C is important to boost the immune system, especially during these times of Covid-19. They are safe to take and highly recommended all year round.
We are currently offering 10% off Vitamin C supplements. This applies to both in-office and online purchases and comes in both a powder or tablet form. Contact us for more information.
Q: How can I find out more information?
A: We are here to help! Tina is an expert on Metagenics as well as all of our office staff. Contact us anytime or send us an email through our website if you have any questions.
Q: What are your tips to make sure that supplements are taken on a regular basis?
A: Keeping supplements out where they are visible and not hidden away is a great way to remember to take them. Keep them on the counter so they're easy to get to. Also, the Metagenics probiotic does not require refrigeration which makes them travel friendly too!
Thank you so much for joining us today and submitting your questions! Our experienced obesity experts at Dr. Simonds Metabolics & Weight Loss are ready to help you achieve your goals and get you started on your weight loss journey. Contact us for more information or to schedule an appointment. We are here to help!