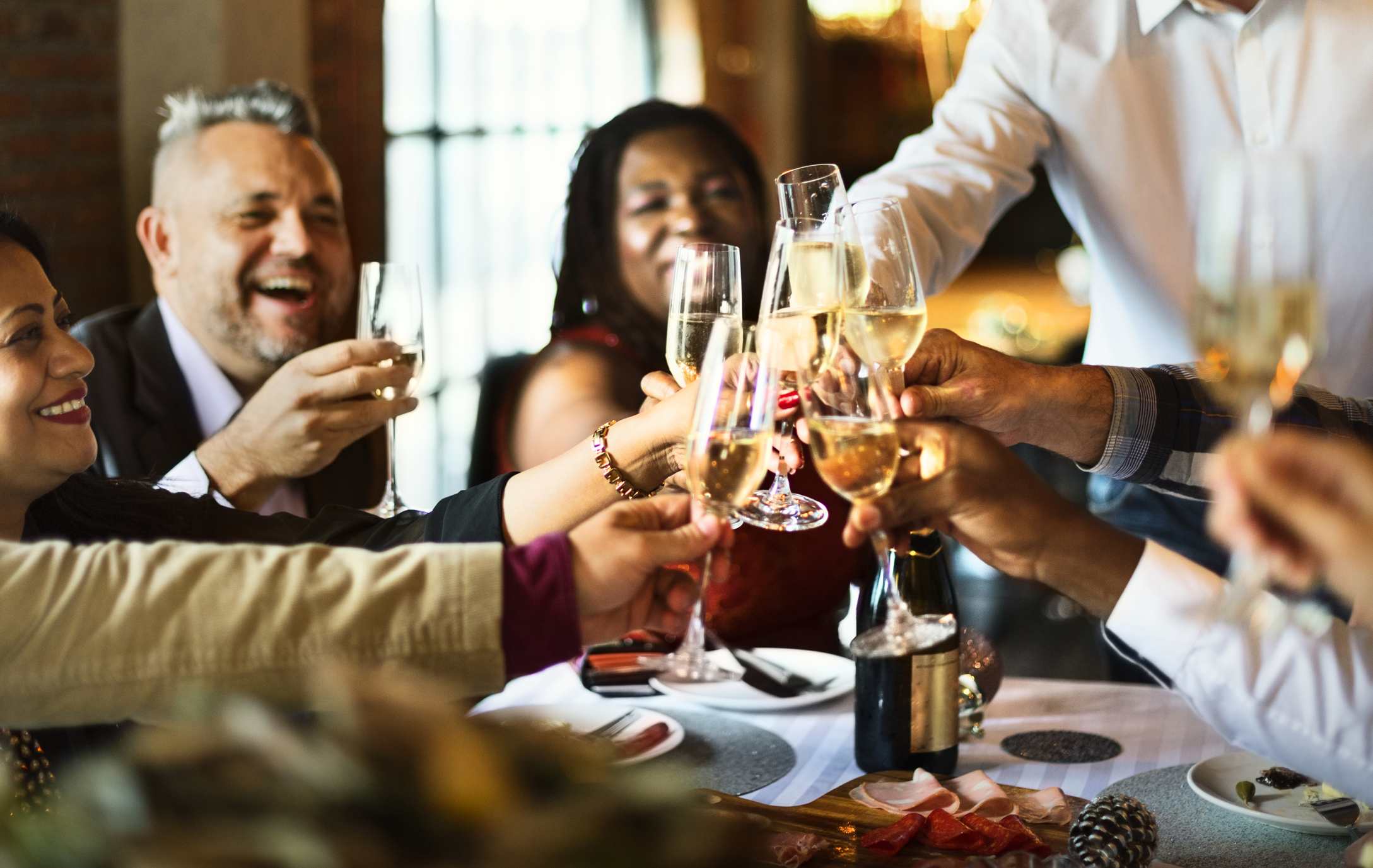 No one wants to talk about dieting during the holidays and other special occasions! You might feel limited by the keto diet when everyone else is enjoying the feast without a care. Luckily, there are a ton of ways to navigate the holiday season without kicking yourself out of ketosis or feeling deprived. Without insulting your wonderful hosts or cutting back on your sense of cheer, here are some tips and tricks that will get you through the holidays and keep you on the right track!
What To Drink
Thankfully, there are plenty of options when it comes to low-carb alcoholic drinks. Wine is the most popular choice for keto dieters, especially white or sparkling wine like champagne.  If you're not into wine, spirits, which contain zero carbs, can be the perfect second choice. Choose a whiskey, vodka and soda water, or dry martini to get the experience you want, minus the worry. If you're a beer enthusiast, try a low-carb option that won't blow your diet. 
One important thing to note is that mixed drinks often have a high sugar content. Stay away from regular sodas, juices, and pre packaged drink mixes and instead, choose a diet drink or unsweetened sparkling water as a mixer to cut out the carbs and sugar.
Don't be afraid to bring your own drinks to prevent yourself from feeling tempted to crack a regular beer later in the evening. If you're worried about sharing, opt for a party size of whatever you're drinking and get everyone on the low-carb train!
Attending Parties
One side effect of dieting is missing out on social events that revolve around food. A little preparation can go a long way, however, and you might be surprised at how easy it is to stay on track. 
If you can and it wouldn't be impolite to do so, get in touch with the host as soon as possible to ask about the menu. If they don't plan to provide any low-carb options, offer to bring your own additional dish (large enough to share), or let them know that you'll be eating beforehand. Here's your opportunity to issue any apologies or reassurances that might make your host feel better when you don't try their homemade apple pie for dessert!
The best way to keep yourself from going hungry is by bringing a keto-friendly appetizer. This is an easy way to make sure you have plenty to eat while you're mingling at the party. Construct a share-size low-carb platter that you can bring as a passing dish, as long as it's okay with the host. And if no one else decides to take a bite, you can always pack it up at the end of the evening. Either way, you'll be covered for the duration of the event.
Holiday events are a great opportunity for you to try out new keto recipes. Have you been craving sugar cookies, dinner rolls, or pumpkin pie? Make your own versions and see if anyone notices the difference. Once the compliments start rolling in, share the "secret" of your delicious passing dish and watch people start questioning their opinion of diet food. 
If bringing your own dish is not the best option for this particular gathering and you find yourself without any keto friendly options, go ahead and just have a tiny amount. Try to avoid spikes in insulin by consuming fats and proteins alongside any carbohydrates when possible. If you're still feeling the pressure, and really want to avoid the food all together, you may actually find that communication really can go a long way. Keep reading to find out more.
Play the Blame Game
This might seem a little dishonest, but some people aren't great at taking "no" for an answer. Your host might insist that you have a treat or maybe even take offense to your refusal of certain dishes. While these situations are rare and you probably have understanding, accommodating friends and family members, it's good to have a few excuses ready to go. If all else fails, blame your medical provider for the restrictive diet and move on!
Similarly, you might casually reveal to another party goer that you're on the keto diet and get a scathing response. You're well within your rights to feel a little taken aback, but don't let it derail your mood or determination. You can choose not to engage by politely steering the conversation in a different direction, or make a joke to lighten the mood. At the end of the day, you'll be proud of yourself for staying committed to your health and wellness.
Ordering Keto at a Restaurant
While it might seem like you'll never eat out again, rest assured that there is a way to get a good keto meal while you're out and about. Again, a little preparation goes a long way, so find out where you plan to eat beforehand and scour the menu online. Almost any restaurant is able to make accommodations for people with diet restrictions, so don't be afraid to ask! You can always call the establishment ahead of time and ask about certain meals to reassure yourself. If you're not sure that substitutions are allowed, contact the restaurant to verify the information.
Check the salad section for the best options when you're on the go. Here, you can incorporate healthy greens, protein, and fats to get a satisfying and keto-approved meal. A lot of salads are customizable and allow you to remove starchy vegetables like potatoes and carrots; be wary of low-fat dressings, opting for full-fat only. Try to add additional healthy fats to your salad, like avocados, eggs, and nuts, so that you feel more satisfied at the end of the meal. As for beverages, stick with diet soda, coffee and cream, dry wines like Merlot or Cabernet, pure spirits, and lemon water.
Before You Go
Now that you're ready to feast responsibly, here are a few things to consider:
Watch out for hidden carbs!

You might think you're making the right choices, but take a closer look at the spread before you load up your plate. Steer clear of starchy vegetables, gravy, and sugary drinks and choose healthy proteins and fats like nuts, seeds, hard cheeses, and eggs instead, focusing on enjoying what you CAN eat instead of what you can't.

Focus on the experience.

Dieting during the holidays might seem tough, but focusing on things other than food can make it more enjoyable. For example, spend time calling and video chatting with your relatives, go for a walk to soak in the fall colors, or get in on some board games or card games to pass the time. Chances are, you'll spend less time worrying about what you're missing and more time soaking up the experience of attending the party, instead.

Don't stress too much.

This is important to remember while you're making the rounds this year. Make choices that allow you to spend your carbs on things you only come across once a year and savor them well! 
The Path to Wellness
If you're looking for a comprehensive and personalized weight loss plan, you're in the right place. Here at Dr. Simonds Metabolics & Weight Loss, we can help you make easy-to-follow meal plans, get access to weight loss medications, and provide the one-on-one encouragement you deserve. Along with helpful tips, advice, and support, our online community of individuals just like you are ready to share their experiences and cheer you on along the way. Let our passionate, caring health professionals help get you on the road to achieving your weight loss goals and become the healthiest version of yourself yet. To start building your customized weight loss plan, contact us today!